Buy, Renovate, Sell and make profit?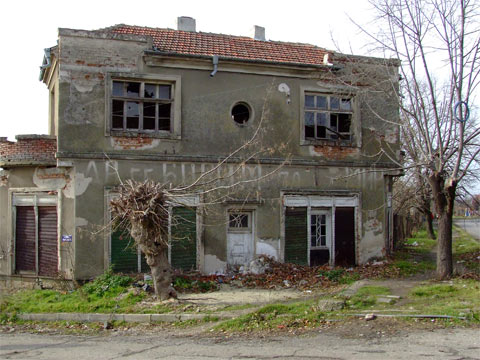 Many property buyers in Bulgaria look to renovate an old property in Bulgaria to make it a home to live in or to resell it. In our previous post we hafe informed you about the Potential of Renovation and Renovating in Bulgaria. In this post we will try to look at the best way to approach buying a run down old Bulgarian property with the intention to resale. Many of the points would be valid too if you are buying such a property for you and your family. Even if finance is no problem you should always keep an eye on the budget in case you have to sell the property later in the future.
Old buildings in need of renovation are to be find in the Bulgarian countryside in the smaller villages. Just a few kilometers from the sea you will find beautiful villages with lots of old houses. you'll The British have long been advocates of renovation and usually do a great job in bringing back these buildings to their former glory in a sympathetic manner.
Can you handle it?
Improvements are certainly adding value to the property; the key is not to take on more than you can handle. A large renovating project in Bulgaria will cost you time and personal engagement. Unless you can do the design (select, source and transport materials) and manage a team of different builders it is advisable to hire a tradesman (small building company) to do most of the jobs for you. If the builder is professional he will take care for things to go smoothly and your job will be to observe the process. If you have no experience in renovations in Bulgaria this will save you time and money for sure.
Can you make a profit?
As in any other business you can make more profit the more you plan and organize your business. Property price is a function of location and type of property. Make sure you buy in the right location and you buy the right type of property. When buying an old property the price strongly depend on the expenses made to renovate the building. But nevertheless what you need is a property with charm that will suit your potential buyers. During the work you should always keep in mind who will be using the home and design it correspondingly.
Where to start from?
Select and research an area that you think has a potential. Research for old properties and get an idea about the asking prices. Prices of old properties in need of renovation vary in a wide spread but what you mainly should be interested in is how much would be total to buy the property and to renovate it. You should also do a research about the prices of similar properties on the market – new built or renovated. This will help you to determine a budget for the project. You are better off buying a smaller property in a good location than a larger property in a poor location.
Additional cost
There will be some extra costs to consider when working out your budget. There will be property purchase fees (about 4 %), solicitor cost, company formation & annual bookkeeping, property insurance, maintenance if you are not onsite and cannot sell immediately, transport cost (flights, car, gasoline). Also do not forget the real estate agent commission when selling the property plus any taxes on the capital gain.
There are many hidden things in one house that might need repair but are not obvious because there is no access to them. A roof is a good example – it might look OK or "not that bad" but you will be able to check its condition only when you "open it" and see inside.
The golden rule is, whatever you do, don't be rushed into buying the property. Take your time and visit as frequently as you need. Take a builder to look at the property and give you a quotation, then make the math and take a decision. If the property is sold in the meantime do not worry – the next property will come. We have a saying in Bulgaria: "You never know what you win when you lose"
Hiring a Builder
If you are going to employ builders or a project manager, do check out the quality of their work and get in touch with past clients if you can. Check our guide: "How to find a good Builder in Bulgaria". Get all quotes in writing, together with a timeframe of the work to be undertaken and a payment plan. There should be penalties for late completion – but on the other hand, you could add in a clause for a bonus if they finish early?
Decorating and Furnishing
With a renovation project it is all too easy to see the money slipping away. It is really tempting to splurge on extras, particularly fixtures and fittings. Think carefully about where you allocate your money for maximum effect. When considering decoration, neutral is best – it is usually brighter and most buyers won't object as they can then make up their own mind about colour.
Tip – if you can affford to furnish the house, do so as it is much easier to sell a furnished property than one with empty rooms.
We are wishing you luck with your renovation project in Bulgaria and would be happy to help you.
---
You can contact us if you are looking for a Builder in Bulgaria. We are general builders covering all aspects of construction including Property Renovation, Repairs and Property finishes in Bulgaria. Click here to >> Contact us <<
---
People reading this were also interested in: