Some useful information for those of you who own a plot of land in Bulgaria and intend to build a new house
You have already purchased a plot of land in Bulgaria and for the purpose you have established a trade company in accordance with Bulgaria Law by using the services of layers and real estate agents for the purchase of the real estate. This process has been completed, you are a legal owner of the land, you are dreaming for a new house but you are wondering how to proceed further and which building company to use.
Or company covers all aspects of the building process and we assist you from the very beginning. We will do all the paperwork needed to start building, we will build your house as per your requirements and we will maintain the property on your request.
Preparation of the paperwork especially related to new construction is a difficult and long process, sometimes rather clumsy because you have to deal with the municipal administration so it is not recommended to do it by yourself.
Before you start the construction permit procedure you have to check if the plot of land you own is as we call it in Bulgaria "regulated" ot it is not. If you have bought a plot of land inside a town or a village this in most cases is "regulated" and you may read further. If the plot of land is not regulated (often this is land in close proximity to a village, but is not on the layout plan of the village) this has to be done before applying for a construction permit. You will find more information here about regulating plot of land in Bulgaria.
There are number of documents that should be prepared for a consruction permit and briefly:
1. Visa for designing
The first and most important thing to start from is obtaining a visa (sketch) for designing.
The visa is provided by the municipality where your property is located. The visa for designing designates the properties of the building according to the Detailed Town and Country Plan (DTCO) and according to the Territory Layout Law. such as: size of the project building, measurements, number of floors, layout, purpose of use (commercial or residential), distances to neighboring plots, etc. In the visa you will find determined the paperwork required by the property owner /investor/ for obtaining a building permission.
The visa has to be coordinated with the respective communal companies supplying electricity, water, etc. Issuing the visa will take 2-3 months.
2. Shop-drawing
The next step is the preparation of the "Shop-drawing". This is a set of documents that includes the architectural part along with structural, geological, water, sewage and electricity supply and all other parts related to the property. There are also geodesy researches of the plot to be conducted. They are an integral part of the architectural project.


Preparing the shop-drawing will cost you money and time. It is very important to be sure and to know exactly what you want to save you more time and more money if you decide to change the plans in the future.


Knowing your idea we can offer you professional assistance that will save you money. We can provide a building (house) design that will save you money to build and will be cheaper to maintain.


This process could take about 3 months.
3. Approval of the shop-drawing by the authorities
After the shop-drawing (a set of plans and drawings) is ready it needs to be approved by the specialists of the municipal administration. The shop-drawing must be prepared in accordance with requirements of the Territory Layout Law (which we are familiar with very well), so if you trust us, the papers will be approved without any problems within a month. It is advisable to avoid the "technical surveillance" to shorten the term. The next step would be then:
4. Application for building permit (construction permit)
Within 7 days from the date a new application is filed at the municipality the consruction permit is issued. Once you have the building permission you are allowed to start building. There are some procedures that have to be observed and mainly assignment of the building stages.
The whole preliminary preparation of obtaining the construction permit (pre-building process) usually takes minimum 6-7 months if everything goes smoothly.
If you choose our building company we can assure your new house will be built with high professionalism and in short terms and all you have to do is to finance the project. We will take care of all necessary documents and we will provide you with "commissioning permit" – your house will be connected to mains water and electricity in accordance with the normative deeds.
We have tried to explain in brief the main stages of the pre-building process. It is rather complicated but our company being in the building business for a long time has been though this process many times and you can entirely rely on our professional help.
Our advice:
Build a one storey (or smaller two storied) house instead of a large property. Thus you will save money and you will be able to build a swimming pool and a BBQ in the yard, to landscape your garden and to feel like in heaven in your new home in Bulgaria. Contact us and require your free quote for building a new house.
click to see larger map of municipalities in Bourgas district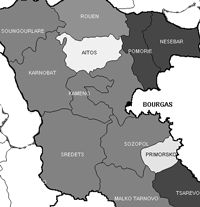 Bourgas municipality:
Bourgas, Banevo, Bratovo, Bryastovets, Bulgarovo, Vetren, Dimchevo, Draganovo, Izvorishte, Marinka, Mirolyubovo, Ravnets, Rudnik, Tvarditsa, Cherno more
Aytos municipality:
Aytos, Dryankovets, Zetyovo, Karageorgievo, Karanovo, Lyaskovo, Malka polyana, Maglen, Peshtersko, Pirne, Polyanovo, Raklinovo, Sudievo, Topolitsa, Cherna mogila, Chernograd, Chukarka
Kameno municipality:
Kameno, Vinarsko, Vratitsa, Jelyazovo, Konstantinovo, Krastina, Livada, Polski izvor, Rusokastro, Svoboda, Troyanovo, Trustikovo, Cherni vruh
Karnobat municipality:
Karnobat, Asparuhovo, Venets, Glumche, Devetak, Devetintsi, Detelina, Dobrinovo, Dragantsi, Dragovo, Ekzarh Antimovo, Jeleznik, Jitosvyat, Zimen, Iskra, Klikach, Kozare, Krumovo gradishte, Krushovo, Madrino, Nevestino, Ognen, Raklitsa, San-Stefano, Sigmen, Smolnik, Sokolovo, Surnevo, Hadjiite, Tserkovski, Cherkovo
Malko Turnovo municipality:
Malko Turnovo, Bliznak, Brushlyan, Byala voda, Vizitsa, Gramatikovo, Evrenozovo, Zabernovo, Zvezdets, Kalovo, Mladejko, Slivarovo, Stoilovo
Nessebar municipality:
Nessebar, Banya, Gyulyovtsa, Emona, Koznitsa, Kosharitsa, Town of Obzor, Orizare, Panitsovo, Priseltsi, Ravda, Rakovskovo, Town of Sveti Vlas, Tunkovo
Pomorie municipality:
Pomorie, Aleksandrovo, Town of Aheloy, Bata, Belodol, Gaberovo, Goritsa, Gulubets, Dubnik, Town of Kableshkovo, Kamenar, Kozichino, Kosovets, Luka, Medovo, Poroy, Stratsin
Primorsko municipality:
Primorsko, Veselie, Town of Kiten, Novo Panicharevo, Pismenovo, Yasna polyana
Ruen municipality:
Ruen, Bilka, Vishna, Vresovo, Dobra polyana, Dobromir, Dropla, Duskotna, Dyulya, Zaimchevo, Zaychar, Zvezda, Kamenyak, Karavelyovo, Kitka, Listets, Lyulyakovo, Mrejichko, Planinitsa, Podgorets, Preobrajentsi, Pripek, Prosenik, Razboyna, Rechitsa, Rojden, Rudina, Rupcha, Rajitsa, Sini rid, Skalak, Sneja, Snyagovo, Sokolets, Sredna mahala, Struya, Topchiysko, Trunak, Cheresha, Shivarovo, Yabulchevo, Yasenovo
Sozopol municipality:
Sozopol, Atia, Vurshilo, Gabur, Zidarovo, Izvor, Indje voyvoda, Krushevets, Prisad, Ravadinovo, Ravna gora, Rosen, Chernomorets
Sredets municipality:
Sredets, Belevren, Belila, Bistrets, Bogdanovo, Varovnik, Vulchanovo, Golyamo Bukovo, Gorno Yabulkovo, Granitets, Granichar, Debelt, Dolno Yabulkovo, Draka, Drachevo, Dyulevo, Zagortsi, Zornitsa, Kirovo, Kubadin, Malina, Momina tsarkva, Orlintsi, Prohod, Punchevo, Radoynovo, Rosenovo, Svetlina, Sinyo kamene, Slivovo, Suhodol, Trakiytsi, Fakia